Expires August 31, 2026, $120 
Your membership gift is a tax-deductible gift to UT Austin
This membership is designed for the parents/families of students who are transferring to UT Austin from another institution. While this membership is only valid for three years, you will be considered a Four-Year supporting member and will receive the same benefits (with the exception of the book).
As a Transfer supporting member, you will receive all basic supporting member benefits, including communications from the association and access to the Facebook group, and these additional Four-Year supporting member benefits: 


Included in your membership packet
Two "Texas Proud" t-shirts
Two car decals
Insulated Texas Parents tote bag
Discounted massages from Recreational Sports
Refrigerator magnet
A redeemable postcard for sustainable goodies
Luggage tag
On the Forty Acres
Early access to Texas Athletics football tickets (before the general public)
Invitation to select campus tailgates
$50-$100 off your purchase of a Texas Parents Brick Paver (ordered senior year)
5% off merchandise at the University Co-op (online and in-store purchases, does not include course material such as textbooks, school supplies and graduation supplies) 
Transportation
Enterprise Rent-a-Car: 5% off published rates
Continuing Education
The Princeton Review: 15% off comprehensive test prep, 10% off all tutoring packages
View the 2023-24 Texas Parents Association Membership Benefits Flyer here.
Benefits subject to change.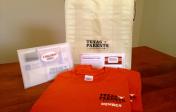 For families whose student is transferring to UT from another institution.