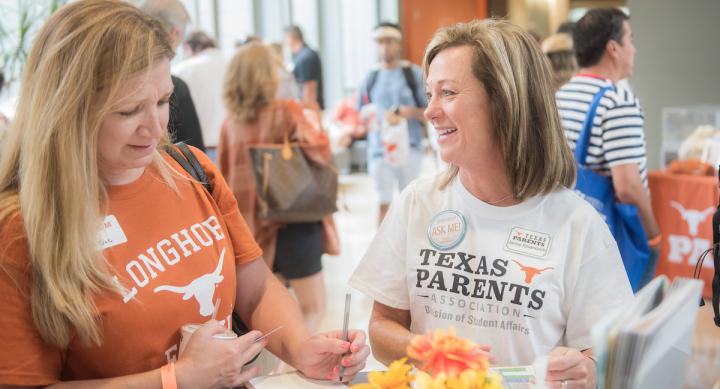 The main responsibility of the Texas Parents Ambassadors Council is to support the core values and mission of The University of Texas at Austin. Ambassadors Council members also offer advice to the UT Austin administration who oversees the operation and supports the purpose and mission of Texas Parents.
The Texas Parents Ambassadors Council is made up of couples and single parents who are dedicated to supporting the Texas Parents mission. Ambassadors Council members serve a two-year, renewable term as ambassadors for Texas Parents and as volunteers at activities for UT Austin families.
Ambassadors Council members are expected to maintain a Four-Year supporting membership in Texas Parents, attend the fall and spring meetings, and volunteer at one or more sessions of Family Orientation as well as Family Weekend. Council members are encouraged, but not required, to purchase a Texas Parents Brick Paver for their student.
Texas Parents members are invited to self-nominate to serve on the Ambassadors Council. Applications are typically accepted in June and July.
---
Ambassadors Council Leadership
An Executive Committee, along with UT administrators, governs the Ambassadors Council. Executive Committee members serve a one-year, renewable term and are appointed upon the recommendation of UT administrators and the Executive Committee's Co-Chairs. The co-chairs for the 2022-23 year are Matthew and Katherine Kardesch.