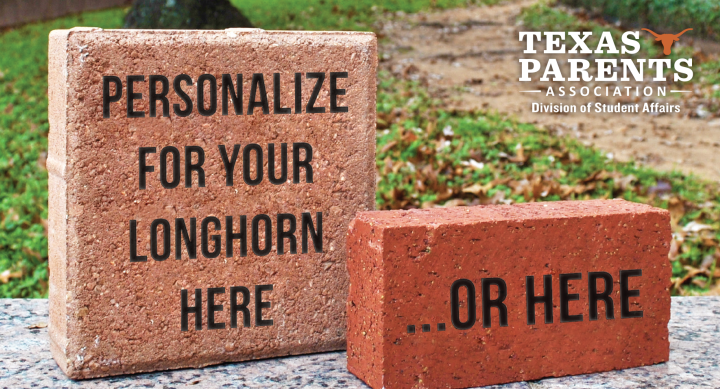 A Brick Paver is a unique and personalized way to honor your Longhorn and leave a lasting tribute on campus. In addition, your tax-deductible gift allows Texas Parents to support the UT community through awards and grants.
All UT parents, families and friends are welcome to participate in the Brick Paver program. Most often, parents of seniors purchase a Brick Paver as a graduation gift for their departing Longhorn. Brick Pavers can honor an individual, a group of individuals or a student organization. The only limitation is the number of characters and lines able to be engraved on your Brick Paver. Brick Pavers are installed on the Student Services Building plaza, in front of the main entry on Dean Keeton Street.
Levels of Support
Brick Pavers are available at three levels of support:
Levels of Support
Price
Discounted Price for Texas Parents

Four-Year/Transfer Supporting Members
Brick Paver Size
Lines of Text
Burnt Orange
$250
$200
8"x4"
3 (16 characters per line)
Bronze
$500
$400
8"x8"
5 (16 characters per line)
Silver (Brick & Plaque*)
$1,000
N/A
8"x8"
5 (16 characters per line)
*Silver Supporters also receive your honoree's name and graduation year listed on The Parents' Association Student Services Endowment Plaque on the first floor of the Student Services Building.
Exclusive Discounts for Texas Parents Supporting Members
Texas Parents Four-Year/Transfer supporting members receive discounts by selecting the discounted levels of support in the online store and entering their Texas Parents membership number. 
    • $50 off the Burnt Orange level of support, for a total gift of $200.
    • $100 off the Bronze level of support, for a total gift of $400.
Support the UT Community
With the purchase of a Brick Paver, your gift supports the Texas Parents office, which is in place to provide you and all undergraduate families with resources to help you help your students from enrollment through graduation. The Brick Pavers also support Texas Parents' efforts to fund student programs and activities and reward excellence in the UT community.
Questions?
Please contact the Texas Parents office by phone at 512-471-2353 or toll free at 1-888-690-0012. You may also email questions to TexasParents@austin.utexas.edu.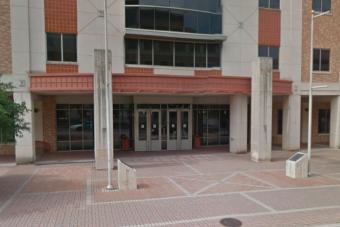 Brick Pavers are laid at the Student Services Building (SSB), shown above.
Contact Texas Parents (Mon-Fri, 8 a.m.-5 p.m. CT)
Location:
Student Services Building (SSB) 1.110
Address:
100 W Dean Keeton Street
Mail Stop A4300
Austin, Texas 78712
Email:
Phone:
Website: