You are joining a community of Longhorn parents who will be an important support system for you throughout your Longhorn's time on the Forty Acres. While members are located all across the world, Texas Parents strives to connect members in a variety of ways. Check out the photo gallery link below and see the growing collection submitted by Texas Parents supporting members. All supporting members are encouraged to share their own photo!
Volunteer with Texas Parents
Texas Parents relies on the help of parent volunteers throughout the year to support a variety of parent programs, such as Family Orientation in the summer. It's also a great opportunity for you to connect with fellow members as well as give back to the Longhorn community. If you are interested in volunteering, please email us at TexasParents@austin.utexas.edu. When volunteer opportunites become available, we will email you with information.
Contact Texas Parents (Mon-Fri, 8 a.m.-5 p.m. CT)
Location:
Student Services Building (SSB) 1.110
Address:
100 W Dean Keeton Street
Mail Stop A4300
Austin, Texas 78712
Email:
Phone:
Website: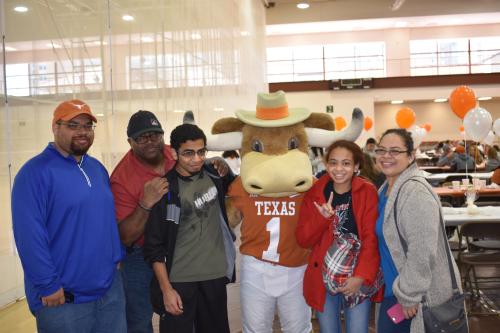 Share a photo with Texas Parents or "like" photos uploaded by your fellow members by clicking "Two Horns Up!"
When you travel, take your 'Texas Parents, Texas Proud' t-shirt along and snap a photo. Upload your photo below, showing us where you've shown your Texas Parents pride around the world.