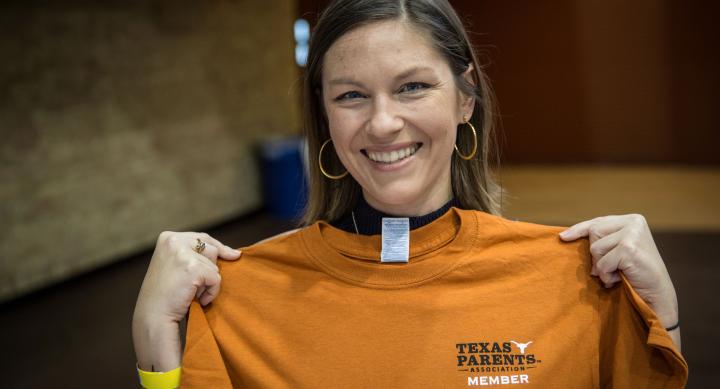 Membership sign-ups for the 2022-23 year have closed. 
Member sign-ups for the 2023-24 Academic Year will reopen in the spring. If you are a parent/family of a currently-enrolled UT Austin student and have an interest in memberships for the current Academic Year, please contact our office by calling us at 512-471-2353 or emailing us at TexasParents@austin.utexas.edu. 
With a tax-deductible gift to the Texas Parents Association, parents/families can sign up for a One-Year, Four-Year or Transfer supporting membership. These gifts are vital as they fund the operation of the Texas Parents office and are reinvested into the UT community through multiple outlets, including grants to student organizations and awards to students, faculty and staff.
As a supporting member, you will receive:
The same communication as U-Touch members, including a monthly Texas Parents Association eNewsletter on the 15th of each month and important updates from university administration.
Access to the Texas Parents closed Facebook group which connects you with a strong community of fellow Longhorn parents who are eager to share information, advice and support. In the past few years, it's become extremely popular with members as a place to discuss, connect and celebrate! 
The benefit of shipping packages to the Texas Parents Office for your student year-round.
An online portal housing a comprehensive guide to your supporting membership benefits and how to use them.
Additional benefits include discounts with local and national vendors and special opportunities with Texas Athletics. 
After signing up, we'll mail you a package with your Texas Parents membership card and other items.
All supporting members enjoy the basic supporting member benefits listed below. Four-Year and Transfer supporting members receive further benefits, including a discount at the University Co-op and special opportunities with Texas Athletics. Learn more about each supporting membership level by clicking the links at the top, right of this page. 
Check back for the 2023-24 Member Benefit Flyer.
Contact Texas Parents (Mon-Fri, 8 a.m.-5 p.m. CT)
Location:
Address:
2101 Speedway Stop D7500
Austin, Texas 78712
Email:
Phone:
Website: